Join or Contact Us
** New Ask the Professional: Resistance Mutations in GIST - Suzanne George, MD, Assistant Professor of Medicine, Harvard Medical School, and Clinical Director, Center for Sarcoma and Bone Oncology, Dana-Farber Cancer Institute, Boston
GSI's Second Opinion Fund helps needy GIST patients see expert doctors. It's easy to apply.
Materials:
new book, brochure, DVD, new Spanish brochure
Understanding Pathology Report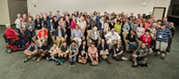 Check the latest news and information about GIST.
» Webcasts and Slideshows
» GIST Publications
See our...» Best Links
Latest News
» UCLA GCAF forum March 24
» Survey on Mutation Analysis
» 2014 NIH Wildtype GIST Clinic
» More News
Latest Content Updates
» All Ask the Pro Pieces
» Home
» Educational Materials
GIST Support International has compiled current clinical trials for GIST cancer, and we are here to assist patients.

The GSI dedicated telephone number to the EmergingMed clinical trials referral service is: 866-729-1340 or link » EmergingMed